Tidings - Links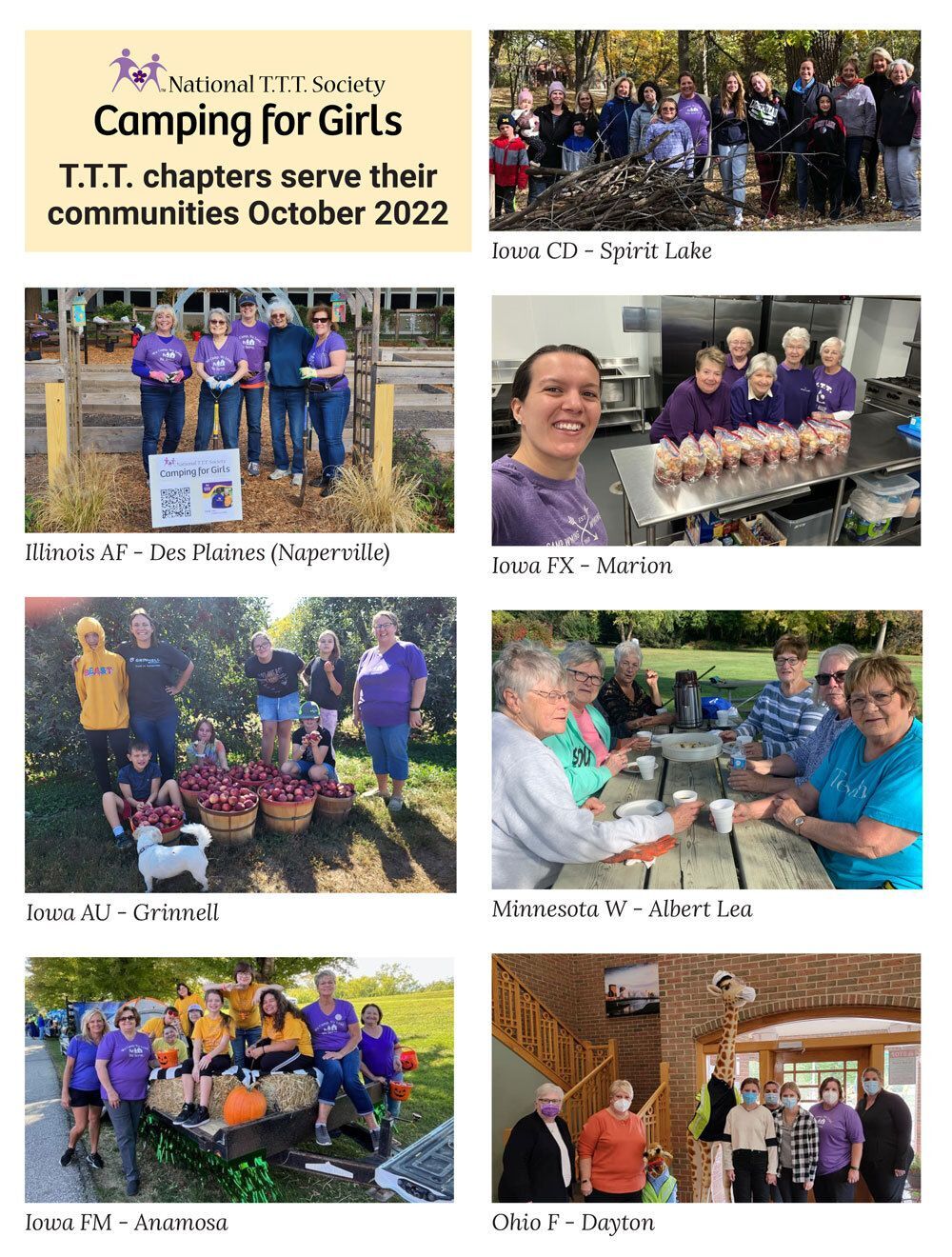 Service weekend debuted in October 2022
T.T.T. launched and completed our first Service Weekend in October with 13 chapters participating. This means that 13 communities received support through service from our T.T.T. ladies. These projects ranged from inside the kitchen to outside in the garden to helping a community parade. The amazing part was that every chapter did a different service project that benefited their community. This also means that these service projects can adapt to various chapters and their communities.
We sold and wore a new T-shirt design along with serving our communities. These shirts proclaimed, "We Camp, We Lead, We Serve," and raised more than $690. The T.T.T. Ambassadors will run a T-shirt sale this winter and the summer of 2023. Be on the lookout for emails about these sales.
Our Let's Connect session for October covered the Service Weekend. We had a great discussion sharing our projects, covering what worked and what didn't. We also talked about how we can get more campers involved in future Service Weekends. Since the Service Weekend will always take place the first weekend in October, our chapters can create a "save the date" request to share with their campers in the spring.
We also discussed marketing and utilizing Laney Poye as a resource for writing news articles. Visit our website for the Let's Connect recording. The T.T.T. Ambassadors will send out a survey in the next month. This survey will not just cover the chapter that participated in the Service Weekend, but will also ask questions to the chapters that didn't participate. We would like your feedback to better plan for the 2023 Service Weekend. In the meantime, we want to thank all the chapters for receiving this new idea and new project and making it a success.
Arizona Q - Pebble Creek: Will organize a blood drive later in the fall
Colorado J - Broomfield: Served a women's shelter by delivering breakfast.
Illinois AF - Des Plaines (Naperville): Worked on the final fall cleanup of the Elmwood School Garden where they get their campers.
Iowa AJ - Prairie City: Collected feminine hygiene products to give to the food pantry.
Iowa AU - Grinnell: Picked apples for their local food pantry. They took their campers from the last couple of years and they had a blast!
Iowa CD - Spirit Lake: Served at Camp Foster, the camp their girls attend. Two prior campers helped alongside their chapter members. For one of their campers, it was her first time back to camp and she was filled with joy and gratitude for her memories. The chapter gathered to organize and sort through the camp's board games and cards. They also picked up sticks outside to help prepare for a fall festival.
Iowa FM - Anamosa: Supported the annual Pumpkin Fest by helping with the Big Wheel Races and decorating a float. The girls had a great time.
Iowa FX - Marion: Partnered with another local organization, Marion Cares, to make crockpot freezer meals for local families struggling with food insecurity.
Iowa U - Mt. Union: Collected for local food pantries.
Minnesota W - Albert Lea: Had a lovely time doing community garden clean-up.
Ohio F - Dayton: Served the Ronald McDonald House Charities of Dayton and prepared dinner for their families. They had three previous campers join them.
Ohio N - Cincinnati: Served at Crayons to Computers in Cincinnati. Their chapter had help from four past campers doing the work of preparing packages of chair caddies, paper clips and bulletin board packets for teachers. The big attraction of the day was getting to use a paper cutter, which was a novelty to our fifth graders. After the work session, everyone went to lunch together.
Ohio U - Cincinnati: Served Matthew 25 Ministries, an international humanitarian aid and disaster relief organization headquartered in suburban Cincinnati.